What's happening: Military coup in Niger
04.08.2023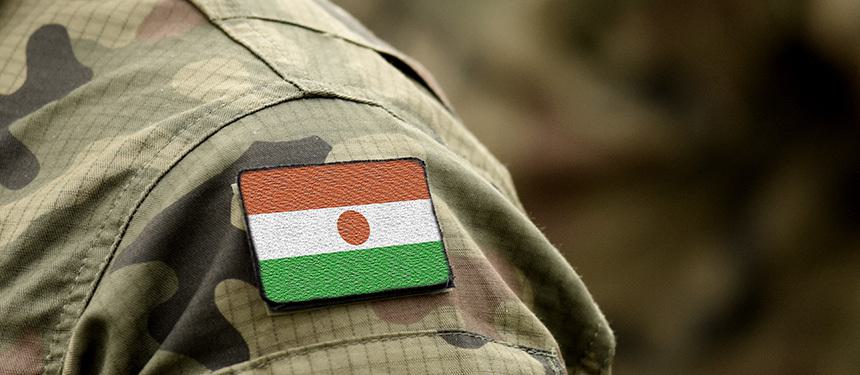 What's happening in Niger?
The coup began on 26th July when the Presidential Palace was cordoned off by members of the presidential guard following an alleged dispute between President Mohamed Bazoum and the leader of his protection force, Abdourahamane Tchiani. The coup was confirmed on 27th July when Tchiani announced the suspension of the constitution and state institutions and established a National Council for the Safeguarding of the Homeland (CNSP) with the backing of military leaders.

Although West Africa has seen a significant increase in political instability since 2020, with seven coups occurring in the region, Niger has historically remained more stable than its Sahel neighbours. Whilst the country has been affected by Islamist insurgencies in the region and experienced major attacks on military bases in the Tillaberi region surrounding Niamey, the government had managed to keep a tighter control of the security situation than its neighbours with the help of extensive support from Western military partners. President Bazoum's election in 2021 also marked increasing political stability as the first democratic transition of power in Niger.
Niger plays a crucial role as a western ally in the fight against Islamist insurgencies in the region, with several thousand French and US military personnel being stationed in the country. The attempted coup was quickly condemned internationally, particularly by the Economic Community of West African States (ECOWAS) regional bloc, which threatened to intervene militarily to restore Bazoum to power if coup leaders did not stand down by 6th August. However, regional leaders have since played down these threats amid ongoing negotiations in Niamey.
Despite intense pressure from ECOWAS and Western countries, Tchiani has remained adamant in his rejection of Bazoum's presidency and refused to meet with negotiators. However, the security forces have continued to cooperate with Western military partners and consular officials in facilitating the evacuation of hundreds of European citizens on French military flights from Niamey International Airport (NIM) since 31st July.
The situation in Niamey has remained relatively calm throughout the crisis, with no clashes between security forces and public services continuing to operate as normal. A curfew imposed following the coup was lifted on 4th August. However, the pro-coup M62 Movement staged a demonstration outside the French embassy in Niamey on 30th July during which part of the embassy gate was set on fire before crowds were dispersed by the security forces. Similar pro-coup demonstrations on 3rd August in the city centre were less well-attended but saw protesters expressing anti-French and pro-Russian sentiment.
Key developments in Niger coup
ECOWAS Sanctions: Following a summit in Abuja on 30th July, the Economic Community of West African States (ECOWAS) responded to the coup in Niger by imposing sanctions. These sanctions include halting all financial transactions and freezing national assets. Western countries have also suspended assistance to Niger.
Negotiations Efforts: A high-level delegation led by former Nigerian military leader Abdulsalami Abubakar arrived in Niamey on 2nd August to engage in negotiations with the coup leaders. However, Tchiani has remained adamant in his rejection of Bazoum's presidency and refused to meet with negotiators before they left the country on 4th August.
Tensions and Diplomatic Tone: Tensions between ECOWAS and the coup leaders have remained high, with authorities in Mali and Burkina Faso threatening to support the Nigerien military in case of foreign military intervention. However, ECOWAS leaders adopted a more diplomatic approach since threatening to restore Bazoum by force on 30th July, stating that military intervention would be a last resort solution.
Electricity Supply Disruption: Ahead of ECOWAS-backed talks, Niger's electricity supply from neighbouring Nigeria was cut off. Niger heavily relies on energy supplies from its southern neighbour, leading to power outages lasting up to five hours in some cities.
Protests and Clashes: In the aftermath of the coup, there have been protests expressing both support and opposition to the military takeover. Thousands of supporters of the M62 Movement marched in support of the transitional regime. Some demonstrations have seen significant anti-French and pro-Russian sentiment, although support for this position has been significantly more constrained than during previous coups in Burkina Faso and Mali since 2020.
Foreign military intervention unlikely but situation to remain tense in the near term
Threats of military action by Burkina Faso and Mali in support of the coup are assessed to not be credible. Both countries have extremely limited military resources which are currently committed to domestic security and counter insurgency operations and have no effective force projection capabilities, including negligible air power resources. Nevertheless, a military intervention in Niger by ECOWAS remains highly unlikely in the medium term whilst negotiations continue and coup leaders struggle to unify support for their administration from among the security forces.
The M62 Movement demonstration on 3rd August was indicative of the limited, albeit increasing, popular support for the coup in Niamey in recent days. Security forces in Niamey demonstrated that they remain largely effective and were able to block access to roads around the airport and Western embassies, as had originally been planned. However, the protests have highlighted the potential for coup leaders to exploit increasing anti-Western, and particularly anti-French, sentiment. Anti-French propaganda has been circulating on the ground and online, with people accusing France of interfering in the country's political affairs. This was exemplified by protests outside the embassy on 30th July and claims of a planned French-led intervention against the junta. However, anti-French sentiment remains significantly less marked than during previous coups in Mali and Burkina Faso where Russian propaganda and disinformation was assessed to have played a significant role in moulding popular opinion.
The military takeover in Niger will likely further complicate Western efforts to help countries tackle Islamist insurgencies in the Sahel that have spread from Mali over the past decade, especially as long-term financial and security support comes into question. Niger has become a pivotal ally for Western powers in counter-insurgency operations, with support being withdrawn by military administrations in Mali and Burkina Faso over the last year. France moved its troops to Niger from Mali in late 2022 following a breakdown in relations with the Malian authorities.
A successful coup in Niger would be highly likely to create an opportunity for Russia and other actors to spread their influence in Niger and the wider Sahel region. Rallies in the past few days have seen some attendees waving Russian flags, indicating support for greater Russian intervention in the security sector. However, Russian influence in Niger is assessed to be significantly lower than in other countries in the region such as Mali and Burkina Faso where Russian private military companies and influence campaigns have exploited widespread instability and discontent with government handling of the security situation.
Advice
Remain in a secure location and minimise non-essential movement in Niamey until the situation has stabilised or evacuation options have been confirmed – Confirm the status of evacuation flights or border crossings before departure for the airport or on overland evacuation routes
Strictly bypass government buildings, security force installations and known demonstration locations, notably Boulevard de la Republique.
Liaise with local contacts and security partners to assess the viability of business-critical operations in Niamey.
Maintain regular communication with security managers – Ensure you have access to alternative means of communication and anticipate the potential suspension of mobile internet services.