What's happening: Russian missile strikes in Ukraine
11.10.2022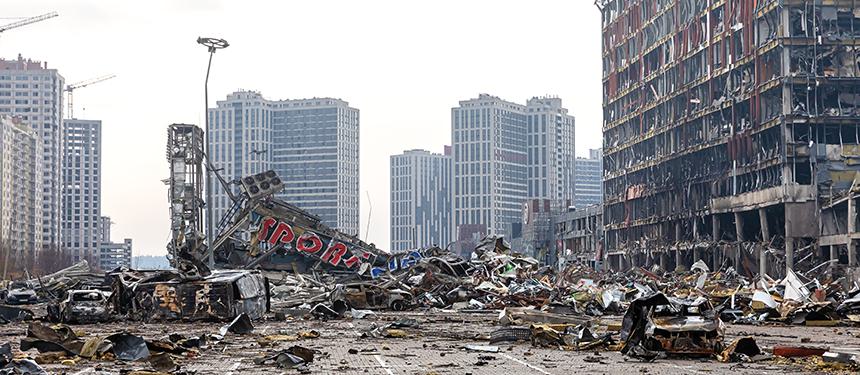 Russian missile strikes in Ukraine
On 10th October, a series of coordinated Russian missile and drone strikes targeted multiple urban centres across Ukraine, including Kharkiv and Sumy in the north-east, Lviv in the west, Mykolaiv and Dnipro in the south and the capital Kyiv, among others.
A total of 84 cruise missiles were believed to have been launched, supported by drone attacks which the Kremlin claims were targeting critical infrastructure. The strikes marked the first attack on Kyiv since June.
Localised power outages were reported in up to fifteen regions across Ukraine, with three power stations damaged in Kyiv. Damage was reported to Kyiv's central Shevchenko District, including to high rise buildings and busy streets with heavy traffic flow. At least eleven people were killed and a further 89 injured across the country.
In a marked change to previous trends, the 10th October strikes took place around 08h00 (local time), when footfall in urban centres was high, whereas previous strikes generally occurred during early morning hours. More central areas of Kyiv were also targeted, posing an increased risk of civilian collateral.
Missile strikes appear to be linked at least in part to both Ukraine's battlefield progress and targeted attacks on what Russia believes to be its own territory, namely the Kerch Bridge.
The Ukrainian government has issued a warning regarding the possibility of further strikes against urban centres. While the country remains on high alert, people have been warned not to ignore further air raid sirens. Despite Russia's stated intention to target energy infrastructure, it remains highly likely that civilian infrastructure and residential buildings within the vicinity of such facilities will be impacted in the event of further strikes, owing to the varying accuracy of Russia's attacks.
Reports from Ukraine on 11th October indicated a second day of strikes by Russia, as regions across the country remain on high alert. Damage to a power station in Lviv has left around 30% of the city without power and caused severe disruptions to mobile phone networks. Aside from the dangers associated with missile strikes which can lack in accuracy, such operational and security risks are likely to remain as Russia targets Ukrainian infrastructure.
Background: Ukraine's strike on the Kerch Bridge
Around 08h15 on 8th October (local time), video footage showed a large truck exploding next to a freight train, believed to be carrying a large quantity of fuel across the rail section of the Kerch Bridge. The truck's initial explosion ignited fuel in seven fuel tanks, causing damage to both the road and rail portions of the bridge. Local authorities issued a directive discouraging use of the bridge to deter heavy traffic flow.
The Kerch Bridge is a vital supply route enabling Russia to support its already-stretched forces in southern Ukraine. Severe disruption to the flow of both rail and road traffic over the bridge would leave Russia's supply lines in a precarious position, with an increased reliance on a route to the north of the Azov Sea transiting through both Melitopol and Tomak, which Ukraine has attempted to target with artillery fire. Although the Kerch Bridge has remained at least partially operational in the aftermath of the attack, the incident posed embarrassing ramifications for both Russia and Putin, given its symbolism of Russian control over Crimea and Russia's recent announcement claiming to annex Ukraine's occupied territories.
Given previous strikes by Ukraine against Russian military installations on Crimea, including the Saky Air Base on 9th August, Ukraine's intention to disrupt Russian supply lines in the south has been widely documented. A large proportion of Ukraine's success in the ongoing counter-offensive in Kherson Oblast can be attributed to disrupting Russia's capacity to supply troops, particularly on the northern bank of the Dnipro River.
The 8th October strike on the Kerch Bridge, therefore, has both practical and symbolic motivations. Vladimir Putin accused Ukraine's security services of conducting a ''terrorist act'' paving the way for retaliatory action. This appears to form justification for launching long-range strikes designed to disrupt Ukrainian infrastructure, indicating the need for personnel to remain vigilant to increased operational and security risks in the short term.
Advice for organisations operating in Ukraine
Review evacuation and emergency response plans to ensure these remain up-to-date: Security managers should ensure that existing evacuation and emergency response plans remain actionable and commensurate with the current risk environment. If your company does not have up-to-date emergency response protocols, you should engage your international assistance provider to coordinate with your Crisis Management Team (CMT) to authorise the development of incident response plans encompassing all personnel based in the region in case of any future deterioration in the security risk environment. These plans should be reviewed regularly to ensure they remain current and commensurate with the evolving conflict risk environment.
Monitor reputable news sources and remain vigilant to the prospect of disinformation, which can potentially spread rapidly: Ensure to corroborate information through multiple sources where possible and liaise with in-country sources regarding the situation in your specific areas of operation.
Ensure employees are aware of the nearest shelter locations: ensure movement to shelter locations can be actioned at short notice.