4 factors that could influence air ambulance cost
26.06.2019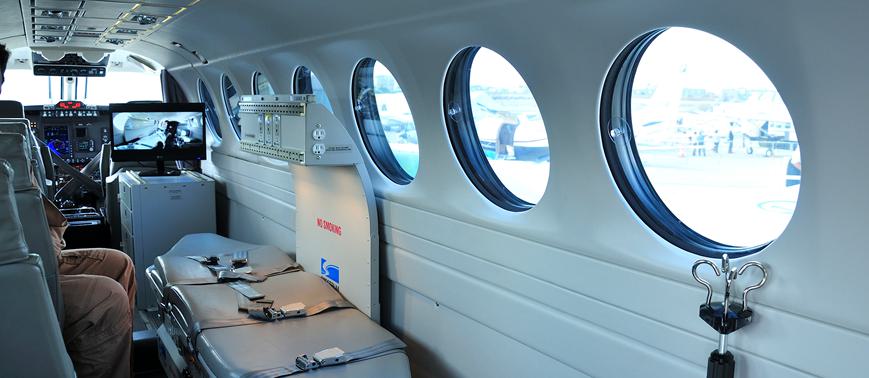 Facing a medical emergency abroad is always challenging, and finding the right air ambulance provider to get you home can be a daunting task. While cost can be an important factor for many people, price alone shouldn't be the ultimate decision-maker.

Our specialist medical knowledge and experience in dealing with emergency medical cases abroad not only guarantees that you get the most appropriate emergency medical treatment, it enables us to manage your situation in the most cost effective way without compromising on care. There are a multitude of different elements that will influence the cost of an air ambulance and we always do our utmost to ensure that costs are never unnecessarily inflated.
We've outlined four factors that could impact air ambulance cost.
Distance to be covered by the air ambulance
Distance is a primary factor in calculating the cost of an air ambulance flight – the more time in the air, the more the flight will cost, factoring in greater fuel charges and medical team costs.
If you call a provider that does not have an aircraft located nearby, the aircraft will have to fly a long distance to reach you which can add significantly to the transfer costs. Healix boast a truly global network of accredited air ambulance providers which enables us to locate suitable transport in the closest proximity to your location.
In most cases, the patient will want to be taken to their home country rather than to the nearest medical centre of excellence. This can result in higher costs if the distance to home is greater than the distance to an appropriate facility. We work behind the scenes to assess the quality of medical care available and whether or not this meets the patient's needs before recommending the right course of action.
The distance can also determine what type of medical aircraft is most appropriate.
Type of aircraft required
Different medical conditions necessitate requirements of different aircrafts, factoring in the number of medical professionals and the medical equipment needed on-board to cater for the patient's clinical needs. We generally use a fixed wing aircraft, most commonly a Learjet 35, for the majority of patients that Healix evacuate.
The Learjet is a very efficient and cost effective jet that is capable of flying worldwide. It is configured to carry one full stretcher, two medical staff and there may be space for one travel companion.
Medical staff to escort the patient
The medical crew needed to escort the patient can also have an effect on air ambulance cost, including the number of medical personnel required to provide emergency medical care during the flight, and any specialist expertise required to support the patient's medical needs.
Regulations and procedures
There are a number of formalities to get clearance to fly from the regulatory bodies in foreign countries. The patient may also require clearance from the treating doctor, stating that they are fit-to-fly.
If flying to a destination other than their home country, the patient may also require additional visas that must be issued on an emergency basis.
When patients are evacuated using chartered flights, airports charge landing and handling fees, which have a direct effect on the cost of medical repatriation.
Why Healix Air Ambulance and Medical Escort Repatriation?
Trusted by multinational corporations, NGOs, governments and insurance companies, we have extensive global experience in successfully managing and co-ordinating the medical treatment, evacuation and repatriation of thousands of people taken ill or injured while overseas each year.
We offer you…
A wealth of experience as one of the largest medical repatriation providers
Global reach with operational offices in London, Auckland and Madrid and an extensive network of trusted partners across the world
The UK's most experienced team of critical care doctors, nurses and multilingual assistance co-ordinators, providing an unrivalled personal service 24/7/365
Bedside-to-bedside transportation with qualified medical personnel and state-of-the-art medical equipment, providing the highest quality end-to-end service.