Your medical repatriation options explained
30.07.2019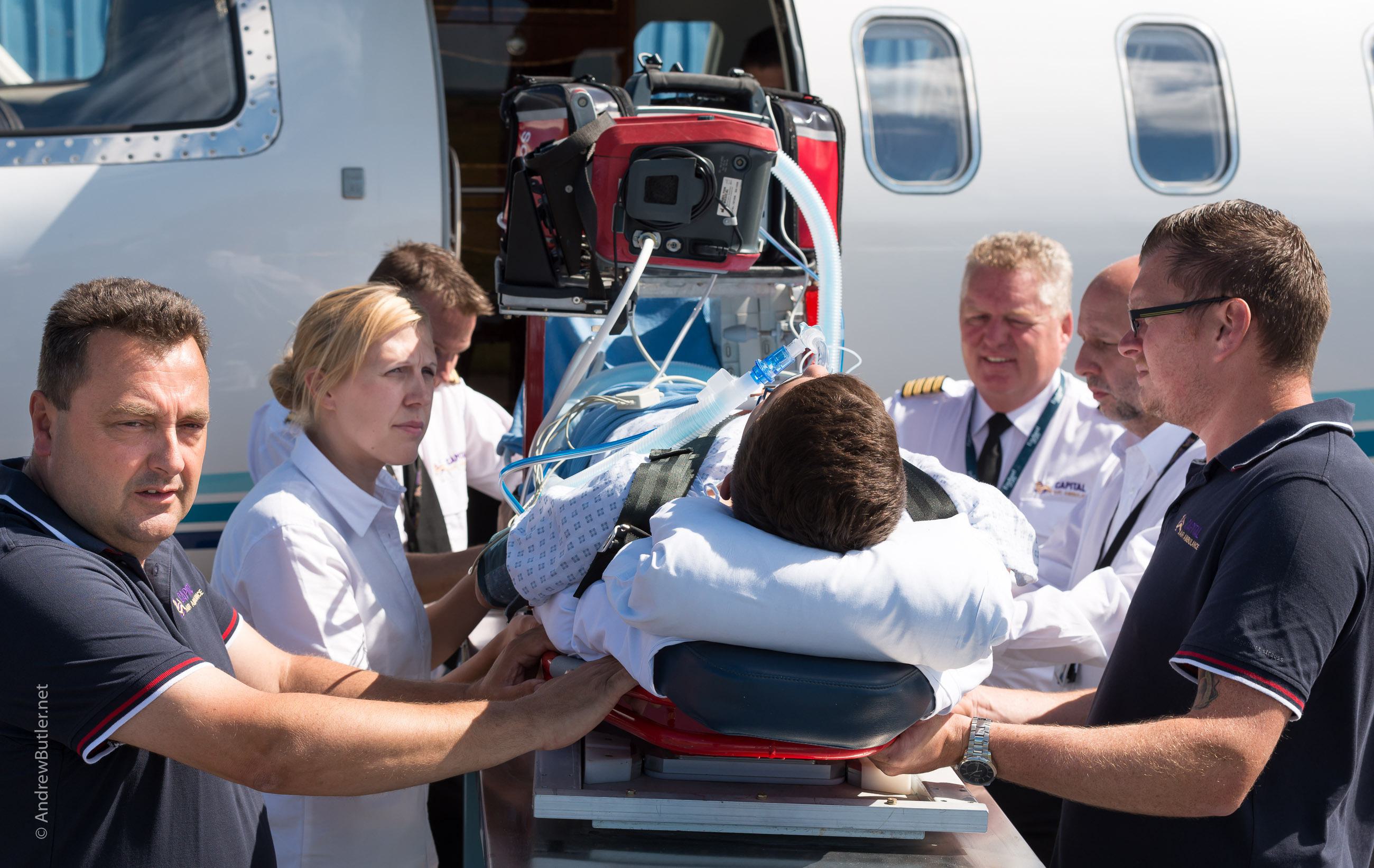 Moving from one hospital to another during a medical crisis can present many challenges and deciding the right medical repatriation option depends on the medical prognosis as well as the quality of care available.

Are there alternative medical repatriation options to an air ambulance?
Patients often express a desire to be flown by air ambulance. But if you've ever been in an air ambulance, you wouldn't choose to fly that way. A medically escorted repatriation on a commercial flight is the most economical way of transporting ill or injured people by air. Most patients will be much more comfortable flying on a scheduled flight where a nurse or a doctor (or both), together with in-flight medical equipment, will accompany the patient so that they can be cared for properly during the journey.
Patients will usually be accommodated in business class which on long-haul flights affords the medical team space to look after the patient. On some airlines it is possible to accommodate stretchers so that patients who are unable to sit in an airline seat can still be transported.
In some cases it's just not possible to repatriate a patient on a scheduled flight, even with a medical escort. When commercial airlines aren't able to accommodate patients, air ambulance providers fill the gap.
When is an air ambulance the best option for medical repatriation?
Air ambulances are used for a variety of patient needs. For example, where a patient has an unstable condition, a high risk patient or a patient requiring advanced medical intervention. Even a patient on life support can be transported in an air ambulance. In addition, air ambulances can be used as a logistical alternative to commercial aircrafts, especially when there is limited availability of stretcher space on commercial flights which often occurs during peak seasons. Some destinations have no commercial options for stretchers.
With an air ambulance aircraft, it is possible to arrange medical repatriation at extremely short notice if required. They also have the flexibility of being able to fly into small airports that large commercial aircrafts can't access, meaning they are ideal for evacuating from small islands and remote locations.
The type of aircraft used depends on the clinical requirements of the patient, distance required to travel, how many patients are being transferred and the weight and dimensions of the patient(s). Most people think of a helicopter air ambulance in rescue operations, however for the majority of patients that Healix evacuates, we usually use a fixed wing aircraft. These are fully equipped with state-of-the art medical equipment and support a fully qualified medical team.
Air pressure can cause post-op complications
An additional feature of air ambulances compared to commercial flights is that the cabin pressure can be adjusted to reduce the effects of altitude on the patient if this is a contraindication to flying.
When flying at a standard cruising cabin pressure equivalent to an altitude of 8,000ft, any gas trapped inside the body will expand by approximately 30%. Problems can arise if trapped gas is unable to expand freely or flow freely preventing equalisation of air pressure.
This can be illustrated on ascent in a commercial aircraft with a crisp packet - just watch it balloon!
If a patient had trapped gas in a cavity that does not allow for expansion, an air bubble in their eye following treatment for a detached retina for example, the damage caused by the expansion does not bear thinking about.
The flight crew of air ambulances can change the pressurisation within the cabin so it matches that at sea level, therefore reducing the effects of gas expansion and hypoxia, enabling us to evacuate patients who are not able to travel in a commercial aircraft.
There are no rules in international medical assistance. No two cases are the same and each must be assessed on its individual merits. The skill of the Healix international medical assistance team is to understand the specifics of a case and tailor our recommendations for medical repatriation options to fit, ensuring the best possible medical outcome for the patient.
Why Healix Air Ambulance and Medical Escort Repatriation?
Trusted by multinational corporations, NGOs, governments and insurance companies, we have extensive global experience in successfully managing and co-ordinating the medical treatment, evacuation and repatriation of thousands of people taken ill or injured while overseas each year.
We offer you…
A wealth of experience as one of the largest medical repatriation providers
Global reach with operational offices in London, Auckland and Madrid and an extensive network of trusted partners across the world
The UK's most experienced team of critical care doctors, nurses and multilingual assistance co-ordinators, providing an unrivalled personal service 24/7/365
Bedside-to-bedside transportation with qualified medical personnel and state-of-the-art medical equipment, providing the highest quality end-to-end service.