Healix to provide medical assistance for crews of the Clipper 2017-18 Round the World Yacht Race
24.08.2017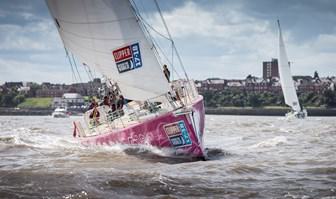 We are delighted to announce that for the second consecutive race, Healix has been appointed as the in-port medical assistance provider for the Clipper Round the World Yacht Race.
The Clipper Round the World Race is the one of the longest and the biggest race of its kind, covering over 40,000 nautical miles in an eleven month long contest. Including six ocean crossings and visiting six continents, the race is divided over eight legs and entrants can choose to complete the full circumnavigation or select individual legs.
With no previous sailing experience necessary, entrants are required to complete a rigorous training course to prepare them for the challenge. Over 700 people from all walks of life are taking part in the 2017-18 edition of the race – the only one of its kind in the world where the organisers supply a fleet of twelve identical racing yachts, each with a fully qualified skipper to safely guide the crew.
Healix will be on hand throughout the race to provide medical assistance for any crew members taken ill or needing specialist treatment. We have set up a dedicated 24 hour helpline for the exclusive use of Clipper Race crew and will look after them when they are in port; organising medical appointments, arranging  treatment, settling medical bills and commenting on fitness to return to the race. We will also organise repatriation of anyone who is not fit to continue.
"Our vast experience of international medical case management and emergency medical assistance, along with our extensive global network of providers, means that we are perfectly placed to ensure fast and efficient treatment at any stop during the Clipper Race.  No crew member is going to want to miss out on the race so we appreciate how important it is to get them rapid treatment but also to ensure that they are medically fit to continue." explained Marise Caunter, Operations Director at Healix International.
Starting in Liverpool, UK on Sunday 20th August, the course sets out an enthralling mix of sailing conditions and challenges, ranging from furious storms to tropical cyclones.
The first stop will be in Uruguay. Crews will sail their boats in a 4-hour-on-4-hour-off shift pattern for around 33 days in tough conditions before they first make port, stretching them to their physical limits. The race will then take in stops at South Africa, Australia, Tasmania, China, USA and Ireland before returning to Liverpool.
For all ports along their journey, Healix have harnessed their wealth of practical experience to provide the Clipper Race with in-depth reports consisting of a location summary, a list of local medical centres of excellence, and a clear procedure that should be followed if a crew member needs medical assistance or advice.
The Clipper Race Viewer will be in operation for the whole race and will update the position of each yacht on the route once an hour.
From everyone at Healix to all taking part, good luck!