Latest advice issued as bushfires continue
23.01.2020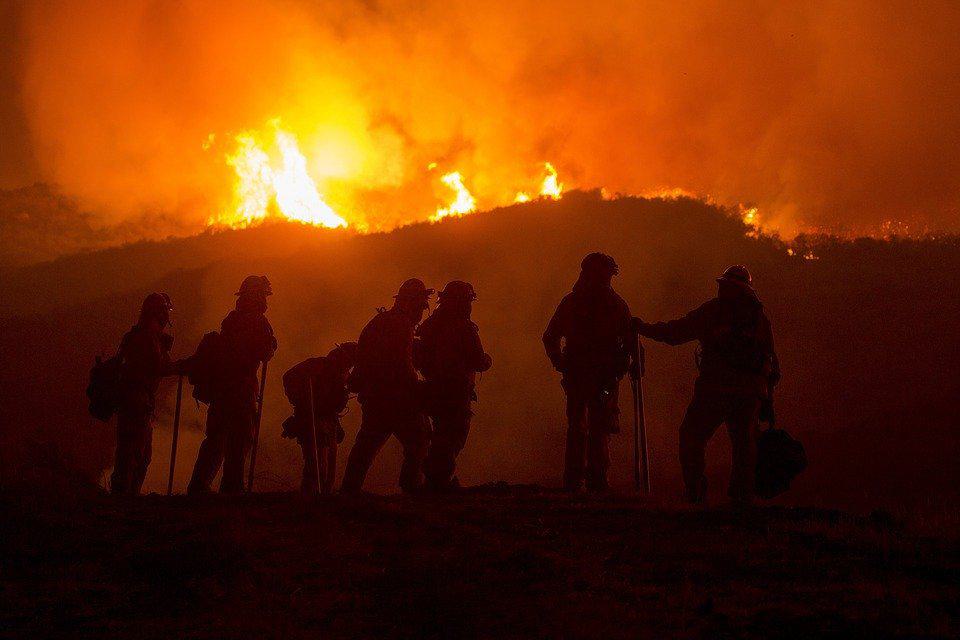 Hundreds of bushfires have been reported across Australia, resulting in at least 28 fatalities so far.

Since July 2019, bushfires have significantly impacted areas across Australia. Ongoing bushfires continue to inflict significant damage to communities and the environment, with Victoria and New South Wales (NSW) being the worst-affected. More than 3,000 homes have been destroyed in the latter and more than 1,100 firefighters are attending to fires in the state.
While the risk areas for bushfires typically vary according to the season, the simultaneous bushfires across the states and territories are being driven by high temperatures and strong winds.
When is bushfire season in Australia?
Bushfires occur due to the generally hot, dry, and drought-prone climate. The natural oil within the leaves of eucalyptus trees, found in 75% of the total forest area, also promotes the combustion of fuel as it is highly flammable. While bushfires occur around the year, the risk areas for bushfires vary according to the season. As such, the risk areas reflect the country's different weather patterns. For instance, most fires in southern Australia take place in summer and autumn months, and for New South Wales and southern Queensland, the risk is elevated in spring and early summer. Therefore, the scale and simultaneous occurrence of the ongoing bushfires across all states and territories in the country is unprecedented.
Why are the bushfires spreading so quickly?
1. Fuel Load
Fuel load refers to the amount of fallen bark, leaf litter, and small branches that accumulate in natural areas, such as grassland or forests. These materials provide fuel for the starting and spreading of wildfires. The greater the fuel load, the higher the temperature and intensity of the fire. Fuel moisture is a key factor as well, as dry fuel tends to burn quickly, but damp fuel may not burn at all. Drought conditions that began in eastern Australia three years ago have resulted in high fuel load across bush-lands, contributing to the rapid spread of the fires.
2. Humidity and Temperature
Relative humidity affects the likelihood of a wildfire being triggered, as well as the intensity of the fire. Plants become more flammable at low levels of humidity because they release their moisture more easily. On the other hand, higher temperatures lead to a higher likelihood of wildfires being triggered or sustained. Average temperatures across the continent in 2019 were the highest ever recorded; it was 1.52°C above the long-term average taken between 1961 and 1990.
3. Wind Speed
Strong winds fan flames toward fresh fuel, and provide a continuous supply of oxygen for the sustained burning of wildfires. Strong winds also promote the spread of the fire via spotting; this refers to the creation of new fires as burning embers are carried over significant distances. Such embers can travel up to 25 miles (40km) ahead of a fire front across cleared areas of natural firebreaks like water bodies. Changes in wind direction may widen the edge of the fire front, increasing the rate of spread. In New South Wales, strong winds with speeds of up to 80 mph (129kmph) have been recorded, fueling the continued spread of bushfires along coastal areas of the state.
Advice for Travellers
Pre-deployment
Familiarise yourself with the Fire Danger Ratings, and the definitions of alerts issued by the state agencies. The alert level issued by state agencies also denote the appropriate measures that need to be taken.
Be aware of and utilise the available resources, especially if deployed to affected areas or areas prone to bushfires. Mobile phone applications like the Healix Travel Oracle app, or Emergency+ are recommended. Make note of the contact information, social media accounts, and the website of the local fire services for updates. Register your travel with your foreign ministry or in-country diplomatic representations.
Those deployed to areas prone to or at risk of being impacting by bushfires should liaise with security managers and establish a bushfire contingency plan. See below for more information. Be aware of the nearest identified Neighbourhood Safer Place (NSP) in the event that the contingency plan is not successful. The usage of NSPs are not meant to replace contingency plans and emergency services may not be present at sites.
In-country
Monitor warnings from the authorities and local media outlets to stay abreast of any potential wildfires, especially during fire season.
Abide by all official directives. Contact the non-emergency assistance lines if required and do not attempt to leave at the last minute - always leave early where possible. The countrywide emergency assistance line is 000.
In the event of a wildfire threatening your accommodation, the safest option is always to leave early, rather than attempt to stay and defend the property. This is especially true for groups with pregnant women, young children, older individuals, and individuals with disabilities. Plan to leave the accommodation for at least the next 24 hours.
Maintain a flexible itinerary; the primary and alternative routes identified in the bushfire contingency plan may be compromised. Ensure that the vehicle used has sufficient fuel for the ground move and is mechanically sound. Stand fast in vehicles only as a last resort; they provide little protection against the radiant heat generated from bushfires.
Employees in bushfire-prone areas should prepare an emergency relocation kit. It should contain a first-aid kit, adequate provisions of food and water, respirators, and the relevant travel documents.
Advice for Security Managers
Pre-deployment
Plan ahead and identify safe accommodation options for employees. Prior to arrival in-country, conduct the necessary due diligence to identify any bushfire-prone areas located along employees' itineraries. Arrange employee accommodation and meeting locations away from affected areas and bushfire-prone areas. Establish a communication protocol and ensure that employees are familiar with the necessary equipment and procedures prior to deployment.
Establish a bushfire contingency plan, especially for employees deployed to bushfire-prone areas. The bushfire contingency plan should include, but not be limited to, locations of safe havens, recommended routes for ground moves, resources for monitoring developments, and contact information of the relevant authorities. Employees should also be briefed on the internal communications channels for use in emergency situations as well as local emergency numbers.
Identify a preferred 'safe haven' for use in an emergency. Liaise with the local authorities for information on official designated emergency shelters and conduct a security audit on alternative safe havens for personnel to stand fast in the event of a bushfire. To reduce response time and streamline staff evacuations in any bushfire-prone area, it is advisable to set up a retainer arrangement with a local ground support provider to provide assistance during the fire season.
In-country
Monitor warnings from the authorities and local media outlets to stay abreast of any potential bushfires that may impact employee itineraries.
Maintain communication with employees, and ensure that the internal Points of Contact (POCs) are familiar with escalation procedures in the event that employees request for assistance.
Establish contact with local ground support providers to facilitate potential requests in the event that employees require assistance.
Encourage staff deployed to bushfire-prone areas to maintain a relocation kit or 'grab bag'.
In the aftermath
Account for all employees and confirm the status of their well-being.
Ensure that counselling and mental health services are available for affected employees; these employees may not be directly impacted by the bushfires but can be affected by what they have witnessed personally or on the news.
Operational disruption as a result of bushfires

While the bushfires have had limited direct impacts on the infrastructure and residents in major urban centres across Australia, the deteriorating air quality has resulted in the disruption of flight activity at international airports. Continued intermittent cancellation, delay, and diversion of flights are expected at airports in the short-to-medium term. The deteriorating air quality had also reportedly impacted the operation of hospital equipment at Canberra hospital, but there has not been signification disruption of services at healthcare facilities in major urban centres.
The economic damage of the current bushfires is expected to increase in the medium term owing to the scale of the fires; beyond the impact on local industries and communities, broader macroeconomic spillovers can be expected, especially in the medium-to-long term.
Air quality
There has been limited direct impacts on major urban centres across Australia, but smoke from the bushfires has resulted in deteriorating air quality and lowered visibility.

Air pollution in Canberra reached an all-time high on 1st January 2020;On that day, Air Quality Index readings at one of the monitoring sites was recorded at 7,700 – anything over 200 is considered hazardous. An elderly woman reportedly died after encountering respiratory distress after exiting a plane at Canberra Airport on 2nd January.
Cities along the east and coast of Australia have also experienced deteriorating air quality. In early January, the air quality index in New South Wales reached levels over 2,300. Hazardous conditions were also detected in regions of Sydney's south-west, and in the central tablelands and southwest slopes.
In the short term, air quality at such levels presents health risks. However, the deteriorating air quality can pose significant health risks for certain groups of the populous, including young children, the elderly, pregnant women, and those with lung and heart conditions.
Advice from the Australian Public Health authorities to minimise the risk to health from air pollution is as follows:
Remain indoors with the windows closed.
Reduce outdoor activities, including all school sports.
Cover your nose and mouth with a mask or damp cloth to reduce exposure to dust particles
Wear a P2 or P3 mask, which blocks even the finest particles (if fitted correctly over the nose and mouth)
Seek medical advice if you feel ill.
Impacts of exposure over the medium-to-long term remains unclear, owing to the lack of research.
Some studies have found a strong statistical link between toxic air and depression and suicide. This is supported by more recent research, including studies that linked air pollution with 'extremely high mortality' in people with mental disorders and a quadrupled risk of depression in teenagers. The studies took account of many factors that might affect mental health, including home location, income, education, smoking, employment and obesity. The results were viewed alongside the potential impact of noise, which often occurs alongside air pollution and is also known to have psychological effects.
---