Flash flooding in Europe causes ongoing disruption
21.07.2021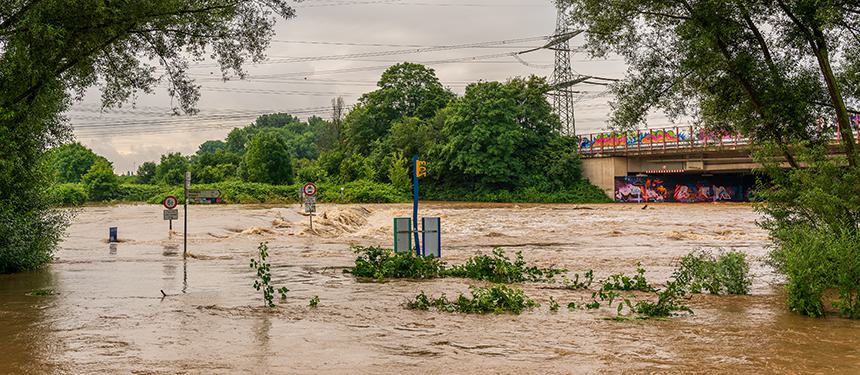 Following record rainfall,  several regions have experienced severe flash flooding in western Europe, leaving behind a path of devastation in areas of Germany, Belgium and the Netherlands.

Rivers across the regions have broken their banks, houses have been destroyed, powerlines torn down and vehicles swept away. Over 188 people are known to have lost their lives, with more fatalities expected as rescue crews continue their search for survivors.
While floodwater recedes in Germany as rainfall subsides, there are fears that southern countries such as Austria, Switzerland and the Czech Republic could witness similar scenes over the coming days. The incident has sparked shock across the continent — Europe has long viewed itself as less susceptible to some of the natural disasters experienced elsewhere in the world, but recent events demonstrate otherwise.   
What's happening in Germany?
Germany has been worst affected area with a recorded 157 fatalities, making this one of the deadliest disasters to affect the country since World War II. Catastrophic flooding occurred in north western Rhineland-Palatinate, north Rhine-Westphalia and Saarland, the force of the waters demolishing houses and damaging critical infrastructure. The Steinbach reservoir dam was feared to be at risk of breaching, and 4,500 residents were evacuated from the danger zone as a precautionary measure. Germany's main railway provider - Deutsche Bahn - was forced to cancel large proportions of its services and reported that over 600km of its tracks were severely damaged, as well as 80 stations. The German government will be releasing more than 300 million euros for immediate relief followed by billions of euros to repair the long-term damage. In the aftermath of the floods, German Chancellor Angela Merkel called on her country to do more to combat climate change, pledging to fast-track aid for reconstruction. The German government has agreed an immediate aid package of £257 million and committed to doing whatever is required for the victims of the floods.
Neighbouring Belgium experienced similar impacts of the flooding, while Austria and the Netherlands also saw smaller scale flooding events. The Belgium army was dispatched to aid four of the country's provinces, with Liège, Belgium's third largest city, being evacuated. Concerns mount over Belgium's clean water supply, as some of the worst-hit areas have reportedly experienced severe damage to their sewage systems - raising the possibility of sewage water and drinking water supplies mixing. The Belgian government declared a day of mourning on 20th July to commemorate the floods.
What caused flash flooding in Europe?
A low pressure weather system hit central and western Europe on 13th July, bringing severe and continuous rainfall lasting several days. Many western European states experienced their highest levels of flooding in decades. Damaging flooding is not uncommon in continental Europe, however this event has carried a much higher death toll than other recent similar events. The flooding, on this occasion, happened rapidly, and occurred during night-time hours. Many residents were unprepared. This was mirrored by complacency at the governmental level; the German government has faced intense criticism for overreliance on digital tools, a reluctance to order evacuations and a longer-term lack of preparedness. Critics have also alleged that the government's flood warnings were issued too slowly; the federal government has rejected the allegations, claiming that its main responsibility is to issue flood warnings to local communities - and that a centralised response was not feasible.
Climate scientist and political leaders have pointed towards climate change as the reason for the increased rainfall and flash flooding in Europe. The logic behind this is that global heating causes more water to evaporate - leading to an increase in annual rain and snow levels. A warmer atmosphere holds more moisture, increasing the intensity of rainfall; this in turn can lead to heavy floods. They have warned that these events are likely to become more regular and advised that low-lying countries such as Belgium and the Netherlands need to be better prepared.
Situation assessment and latest advice
Expect disruption over the coming week. As floodwaters recede and clean-up operations commence, business operations are likely to be affected. Overland travel should be planned in advance and alternative routes identified where roads and infrastructure have been damaged. In areas which experienced flooding, there will likely be intermittent outages of gas, electricity and internet supply. Monitor local weather warnings in case of further heavy rains.
Business with offices and critical operations in affected areas should review Crisis Management and Business Continuity plans. These plans should be consulted and any necessary listed actions taken. Check with third parties or providers who form part of your Business Continuity Plan, such as back up site locations and data protection services, and ensure that they are still operational.
Healix Security Services can assist your company in creating bespoke plans and policies, as well as monitoring capabilities, to help your employees understand prevailing risks and subsequent mitigation methods. Contact enquiries@healix.com to find out more.