What you need to know about monkeypox
31.05.2022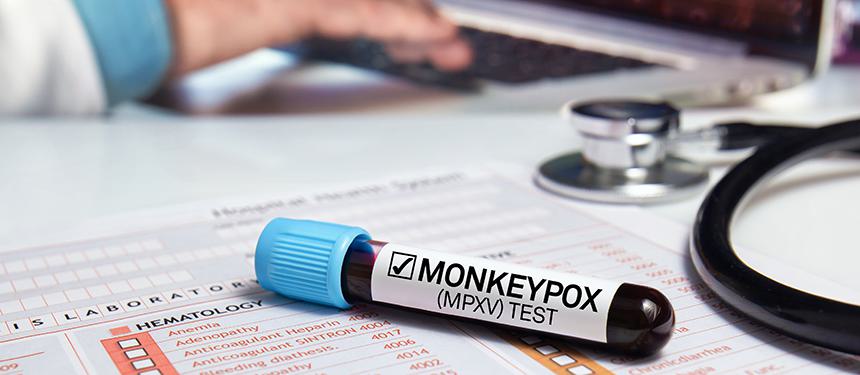 What is monkeypox?

Monkeypox is caused by the monkeypox virus, a member of the same family of viruses as smallpox, although much less severe and less infectious. It occurs mostly in Central and West Africa. Rodents are believed to be the primary animal reservoir for transmission to humans by close contact with an infected animal.
Initial symptoms include fever, and flu-like symptoms. Within a few days a rash can develop, accompanied by swelling of the lymph nodes. Most patients will only experience mild illness and will go on to make a full recovery within around 14 to 28 days. However a small number of patients can develop serious complications, and this is more likely to occur in children, pregnant women or those who are immunocompromised.
The WHO has received reports of over 250 confirmed monkeypox cases in over 20 countries where the virus is not endemic. The majority of cases that have been identified have been in the LGBTQ+ community, more specifically among men who have sex with men (MSM), although it is important to note that monkeypox is not an STD and can be transmitted by close contact with an infected person. This may be a result of greater vigilance amongst the community and access to dedicated clinics. All cases thus far have been confirmed to be the milder West African strain. The disease was believed to have initially been contracted by an individual in the UK with recent travel history to Nigeria.
Outbreaks are controlled by infection prevention. Care provided is usually supportive, mainly treating the symptoms. An antiviral agent developed for the treatment of smallpox has also been licensed in Europe for the treatment of monkeypox, but is not yet widely available. Although a vaccine does exist, it is not routinely available. The smallpox vaccine, however, can be used to help control outbreaks and is up to 85% effective in preventing monkeypox. Most people over the age of around 50 years old will have already had the smallpox vaccine and will therefore have good protection against moderate to severe disease.
A monkeypox pandemic is unlikely
It is likely that more cases will be diagnosed in the coming weeks; however the risk of another global pandemic is low. Monkeypox is not usually very contagious – it is a DNA virus and so it cannot mutate as rapidly as a Coronavirus can.
Monkeypox does not spread easily from person-to-person but transmission can occur from close personal contact, contact with body fluids or handling of contaminated clothes or towels. Respiratory transmission can also occur, especially between those who are living in close proximity.
Monkeypox has an incubation period before symptoms develop, ranging from 5 to 21 days and it is not contagious during this time so is less likely to be spread unknowingly. Those who are most at risk are those who have been in contact with a symptomatic infected individual.
Advice
Raising awareness of risk factors and educating people about the measures they can take to reduce exposure to the virus is the main prevention strategy for monkeypox at this time.
Anyone who suspects that they may have monkeypox or who has had close contact with a known case of monkeypox should be advised to self-isolate and call their healthcare provider for further advice.
Travellers planning to visit West African countries should exercise caution.