The State of Qatar: Travelling to the World Cup 2022
20.09.2022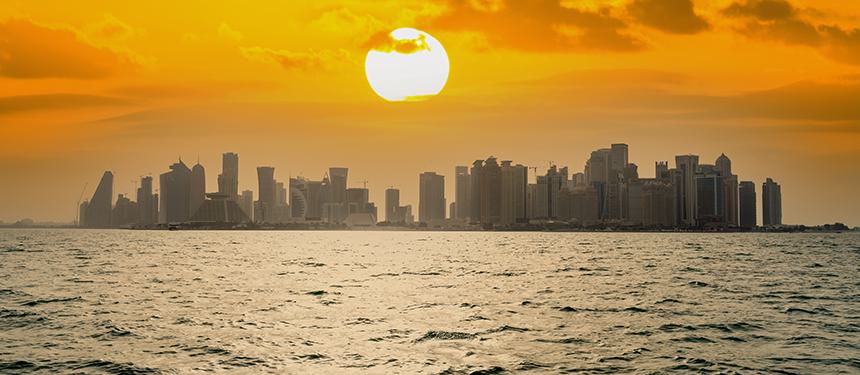 The 22nd World Cup will be held in Qatar from 21st November to 18th December. With 32 competing nations and games spanning over at least eight stadiums across the city, football fans are gearing up for travel to Qatar.

Getting to the Qatar World Cup
The Qatari authorities have announced that from 1st November to 23rd December only citizens, residents and holders of the World Cup Hayya card will be allowed entry to the country. Golf Cooperation Council (GCC) citizens with a Qatari ID card and holders of work entry permits will also be exempt from these restrictions
Ticket sales are currently in the Last-Minute Sales Phase which works on a first-come-first-serve basis. Ticket holders travelling to Qatar must apply for a Hayya Card ID, a form of Fan ID granting access to the country, the stadiums, and free metro and bus services. Travellers are encouraged to apply early to minimise the risk of delays. Accommodation can be booked through Qatar's World Cup Accommodation Agency website, and those staying with Qatari residents must request for their hosts to register their accommodation on the Hayya Portal.
Behaviour expected of guests
Football fans should conduct themselves in a manner appropriate to Qatari laws and Islamic customs. As a conservative state, Qatar sex-outside-marriage is illegal, with a sentence of seven years of imprisonment imposed if one is found guilty. Regarding alcohol consumption, the Qatari authorities have confirmed that alcohol will be served in select areas within stadiums. In Doha, a 40,000 capacity fan zone will be established where alcohol can be purchased and consumed. However, the authorities are still finalising arrangements regarding its alcohol policy. In Qatar, alcohol is usually only sold at licensed hotel bars and restaurants.
While host authorities have expressed that everyone is welcome to the games, same-sex sexual activity is illegal and punishable by a maximum sentence of seven years' imprisonment under Qatar's Penal Code 2004, and punishable by death under Sharia law in Qatar. Several LGBTQ+ groups, governments and human rights organisations have expressed concern about the safety of football fans from minority groups. Qatar's Emir Sheikh Tamim bin Hamad al-Thani stated in May 2022 that "we expect and we want people to respect our culture" in response to a question about LGBTQ+ attendance at the World Cup. Contradictory to some FIFA statements stating that flags associated with LGBTQ+ ideologies will be allowed in venues, Major General Ansari stated that such flags are not allowed into venues and will be confiscated. There are reports of hotels on the official list of recommended accommodation for Qatar 2022 operating discriminatory booking policies against same-sex couples, despite FIFA's warning to exercise non-discriminatory policies. It is not likely that Qatari authorities will provide protection to LGBTQ+ fans who experience discrimination, and victims of LGBTQ+ discrimination may likely be charged for their sexual orientation if they approach local authorities.
Who will provide security at the World Cup?
Given the estimated increase in footfall of 1.5 million people, there are significant concerns that Qatar's security apparatus could become overstretched. The local security forces have no relevant experience in managing incidents of large-scale unrest during football matches. During the tournament, it is unclear if Qatar would be able to respond effectively to multiple significant security incidents during the same time period.
In response to these concerns, the Qatari authorities have conscripted hundreds of civilians and diplomats back from overseas for mandatory military service during the World Cup. Conscripts will operate security checkpoints at World Cup Stadiums. Additionally, the authorities announced that they have reached an agreement with Turkey, with the latter to send over 3,000 riot police to help secure stadiums and hotels. While Qatar will pay for the Turkish deployment, Turkish personnel will remain under Turkish command. The agreement comes roughly a month after the Pakistani cabinet approved a draft agreement for a Pakistani security deployment to Qatar. However, no final agreement between Qatar and Pakistan has yet been reached.
Enjoying the Qatar experience
For a safe experience in Qatar, travellers and security managers of travelling employees can reach out to Healix International for the appropriate risk assessment and mitigation advice, particularly for LGBTQ+ travellers. Such assessments could include any analysis of legal developments or exemptions Qatar has imposed specially during the World Cup period, or a hotel assessment, or any risk mitigation advice corresponding to the security environment, cultural norms and society of Qatar. It also includes having access to Healix's LGBT e-learning modules to better equip LGBTQ travellers in Qatar, or ground support for travel in Qatar.