What's happening: Potential for further escalation in Gaza
09.11.2023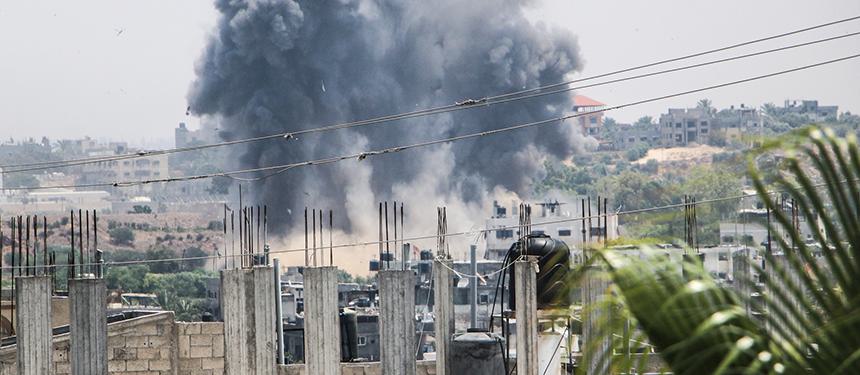 On the night of 27th October, the Israeli Defence Forces (IDF) initiated a ground operation targeting Hamas in northern Gaza. This operation, supported by drones, tanks, and helicopters, began by focusing on the towns of Beit Hanoun and Bureij before advancing deeper into Gaza territory. By 3rd November, the IDF had encircled Gaza City, effectively dividing the region in two. The operation has seen intense fighting, resulting in significant military and civilian casualties. The ground offensive is in retaliation to Hamas's 7th October assault on Israeli military and civilian sites bordering Gaza. Over 200 hostages taken during the assault remain in Hamas custody.

In addition to the conflict in Gaza, there have been military cross-border clashes between the IDF and Lebanese militant group Hezbollah, along with Palestinian militant groups based in southern Lebanon, since 8th October. Hezbollah initiated this escalation by firing rockets and artillery at Israeli military posts "in solidarity" with the Palestinian people. In response, attacks targeting both IDF and Hezbollah positions have become a daily occurrence, leading to casualties on all sides.
Simultaneously, the Houthi rebel group in northern Yemen attempted to target Israel with drones and missiles. These attempts, starting from 7th October, were unsuccessful due to Israel's advanced defence systems. The Houthi movement claimed these attacks were in support of Palestinians in Gaza, and they are part of the broader Iranian-backed "Axis of Resistance". Iran has repeatedly warned Israel that its operations in Gaza could lead to a regional escalation.
The United States has also sent two large aircraft carriers to the Eastern Mediterranean and the Middle East to deter any further escalation in the region.
Operational developments
The current IDF operations in northern Gaza are primarily aimed at pressuring Hamas into releasing hostages. While Israeli officials have stated their intention to destroy Hamas, the operation is more focused on targeted raids in Gaza City to eliminate Hamas commanders and infrastructure, increasing pressure on Hamas to agree to a hostage release.
However, maintaining IDF positions around Gaza City exposes them to counterattacks. Hamas can pinpoint these positions and utilise its network of underground tunnels for ambushes.
For Hezbollah, the ongoing clashes along the border with Israel serve the purpose of maintaining domestic support without provoking significant Israeli retaliation. The group faces political and economic challenges and does not want to risk a larger-scale conflict.
The presence of the US Navy in the Mediterranean has influenced Hezbollah's decision to limit its response to the Gaza conflict, as a substantial retaliation could lead to a devastating conflict including US involvement.
Hezbollah's operations along Israel's northern border have forced Israel to divert significant military resources away from Gaza, despite the different capabilities of the two groups.
In summary, the IDF's current operations in northern Gaza aim to pressurise Hamas into releasing hostages while degrading the Hamas command structure. Hezbollah's actions along the Israel-Lebanon border are a way of maintaining domestic support without risking a larger conflict. The presence of US forces in the region has deterred Hezbollah from escalating the situation further.
IDF operations in Gaza City likely to increase
In our most likely scenario, we expect that IDF operations within Gaza City will intensify over the next seven days. The encirclement of the city will lead to increased raids, with a focus on targeting Hamas military outposts, tunnel infrastructure, and potential hostage sites. Close-quarter fighting will continue, with daily reports of IDF casualties. Hamas operatives in southern Gaza will target IDF positions with rocket fire, prompting increased air and drone strikes in response. Additionally, Hezbollah is expected to escalate attacks on the Israeli Lebanese border, but they will likely remain below the threshold for significant Israeli retaliation.
If you require support or advice, please contact us at enquiries@healix.com