Battling loneliness: How can you help employees feel less isolated?
21.03.2023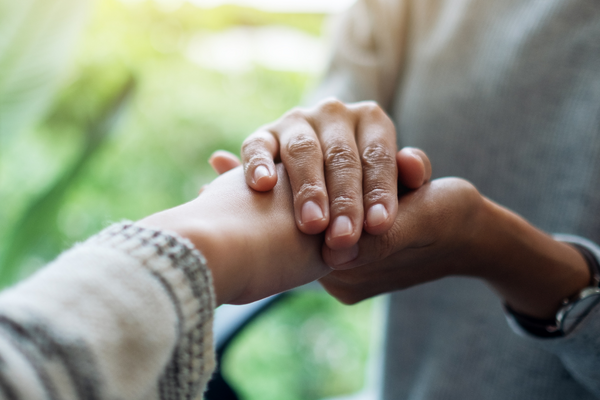 Data from the Campaign to End Loneliness shows that 3.3 million British people were 'chronically lonely' between 2021-2022, experiencing feelings of loneliness all the time. Not only does this have a detrimental effect on a person's mental health, but loneliness has a similar impact on physical health as obesity and cigarette smoking, increasing the likelihood of mortality by more than a quarter (26%). As such, tackling these feelings is an important health priority for businesses – how can you help better support and empower your employees in prioritising their wellbeing?
1. Counselling
Addressing concerns before they spiral into a more serious mental health issue is vital. One way to do this is by providing a 24/7 helpline and face-to-face counselling for employees to seek convenient and confidential help. Access to trained counsellors and a safe space to talk will help employees feel supported and banish any shame they may harbour about feelings of isolation.
Some providers also ensure a range of choice for your staff, offering access to BACP accredited counsellors so that employees have a better chance of finding a counsellor who is most suited to their individual needs and circumstances. By giving the option of either virtual or face to face sessions shortly after an initial assessment, you can enable your staff to access support quickly and however they like.
2. Employee training
Similarly, make sure that you and your staff are trained in spotting the signs of someone who might be struggling by providing specific mental health training, workshops and resources and facilitating open conversation is key. These can help foster a culture of trust and community in your workplace, removing feelings that discussing these issues is a taboo subject and allowing the opportunity for staff to signpost appropriate services to their peers too.
3. Specialist support - debt, legal and practical life advice
With the cost of living crisis continuing, some of your workforce may be tackling financial, legal and practical life stresses on their own, exacerbating feelings of loneliness and anxiety. While it feels like a very personal and sensitive subject, there are things you can do to help. For example, facilitating access to government and public sector bodies that provide specialist support on issues from legal matters to debt or financial concerns can act as a soundboard for employees to discuss the challenges they are facing in a confidential arena. It means they know where to go to get the guidance to navigate these issues more effectively without feeling like they need to talk to their manager or employer
With women making up half of the workforce, recognising their contribution and accounting for their needs and concerns is not only the right thing to do, but will also prevent the loss of valuable female talent. People need and want to know that the company they work for values and appreciates them, and without providing the appropriate care, staff will look elsewhere for someone that will.
4: Career advice and coaching
The pandemic brought with it a huge growth in flexible working and, with a lot of companies continuing with the hybrid working model, this 'new normal' is clearly here to stay. But for all the advantages, this is leaving people more susceptible to feeling lonely than ever before. Without the social interaction office life brings, some even experience intense feelings of inadequacy at work.
Giving staff the opportunity to overcome these feelings with the chance to meet virtually with a career adviser or coach, as frequently as once a week, can help tackle this. Delivered in plain English, these sessions can act as a source of advice to help employees plan where they want to take their career in the years ahead.
5: Other employee benefits
It is worthwhile supplementing all the above with a range of employee benefits and volunteering opportunities that have a strong element of human interaction and connection. These can include educational courses, gym membership discounts, cinema tickets, restaurant meals and shopping discounts. Even specific, tailored healthcare schemes, such as the Healix Corporate Healthcare Trust, can offer a huge range of additional support for staff for mental health concerns that might typically be excluded from private medical offerings.
Whether it's a welcome treat amid the cost-of-living crisis or practical health support via a formalised scheme, there are plenty of additional benefits that can help staff enormously when it comes to combatting loneliness. With a combination of counselling services, financial and life guidance, and employee benefits, you can be there to help minimise any feelings of loneliness and support your workforce whatever their challenge.
---
https://www.campaigntoendloneliness.org/press-release/new-analysis-from-campaign-to-end-loneliness-reveals-people-are-more-chronically-lonely-now-than-before-covid-19/
https://www.campaigntoendloneliness.org/the-facts-on-loneliness/