Tracking a key component of corporate travel security policy
11.05.2021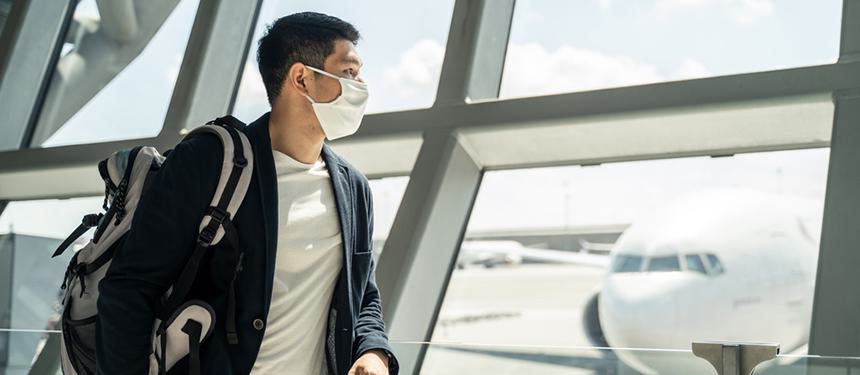 The coronavirus pandemic may have disrupted business travel for more than a year, but as governments roll out mass vaccination programs and countries slowly lift restrictions, many companies are looking for the safest and most effective ways to get their employees abroad again.
In a study conducted by the Global Business Travel Association (GBTA), before the coronavirus outbreak ravaged the travel industry, global business travel expenditure was projected to reach $1.6 trillion in 2020. While the serious public health risk brought life as we knew it to a standstill, forcing cities into lockdown and employees into remote work arrangements at home, it also pushed the irreplaceable human aspect of business travel into sharp focus.
Business opportunities in high risk or emerging markets
Globalisation has enabled organisations to expand their reach faster than ever, opening operations in other regions to service new territories, linking cooperation agreements with foreign companies, or even outsourcing parts of their supply chain to developing countries to diversify their resources.
These developing nations are commonly afflicted with issues such as political instability, weak infrastructure development, high poverty rates, and even inter-or-intrastate conflict. As a result of these factors, there are consequential risks posed to the safety and security of employees dispatched to such territories. These risks exist on top of universal ones such as natural disasters and local crime.
Moreover, the effects of the Covid-19 pandemic have exacerbated the security, political, operational and medical risk environment of many countries. Organisations have to anticipate that their employees and operations will have varying exposure to the risks in these emerging markets. Recent examples this year include the 1st February military coup in Myanmar which saw the fledgling democracy deteriorate into political violence and operational disruption, as well as the insurgent attacks in Mozambique in late March which saw foreign workers caught in the crossfire.
Even in lower risk destinations, incidents can also sometimes develop swiftly, especially in the case of earthquakes, civil unrest, terrorism and violent crime. This also includes the imposition of lockdown measures and other travel restrictions at short notice, amid the pandemic. Both risk managers and employees who are unfamiliar with the local environment may lack access to first-hand information that may aid in mitigating the traveller's risk exposure to such incidents.
It falls under a company's duty of care to its employees to ensure the personnel they send abroad are aware of the local risk environment and what contingency measures are available in the event of serious incidents or emergencies. Organisations have to contend with maintaining business interests while navigating risk environments at the same time.
The role of corporate travel security protocols
According to SAP Concur's Global Business Traveler Report 2020, the study indicated that business travellers "are excited to get back on the road, but they want support and solutions so they can do so safely."
Without a robust corporate travel security policy, organisations could fail to win the trust and confidence of their employees to engage in business travel. In the event of critical risk exposure such as injury or death to an employee, companies could incur a serious loss of reputation and disruption of business operations. To properly mitigate risks to employee wellbeing, tracking tools have become a key component of corporate travel policies, ensuring optimal coverage of each business traveller's safety and security.
A comprehensive and robust solution to empower business travel: Healix Sentinel Tracker
The concept of duty of care is a legal obligation for employers to safeguard the health, safety, and security of employees on their watch. Organisations could be legally prosecuted for a clear breach of duty of care, especially in cases that have resulted in the injury or death of an employee.
Healix Sentinel Tracker empowers companies with the right tools and support infrastructure to facilitate business travel safely and efficiently. It contains a suite of intuitive features that seamlessly integrates information to create a streamlined user experience, which is a win-win for the risk management team and travelling employees.
As an app-based security tracking tool, it provides greater accuracy in terms of location data. This is exceptionally useful when it comes to business travel in this day and age, when health and safety risks have become more complex to navigate. Outbreak clusters and virus mutation hotspots can pop up in the span of hours, and business travellers who are unfamiliar with their environment require up-to-date reports from a trusted source to ensure their risk awareness and mitigate their exposure.
Healix Sentinel Tracker contains advanced tools to ensure employees are supported, with automated alerts of real time intelligence, and employer notification should their assets be at risk. Furthermore, an employee's request for assistance can also be escalated immediately via app, with geo-fencing and messaging capabilities tailored to their needs. Risk ratings in travel security usually assess possible threats in terms of political violence (terrorism, insurgency, warfare); civil unrest (strikes, protests); and crime (robbery, assault).
Some employees resist tracking tools at the cost of their safety because they view it as an infringement of privacy. Healix Sentinel Tracker can be configured as a non-invasive solution that does not monitor location 24/7, instead it provides a check-in feature tied to a fixed geo-location for employees to manually check-in as a confirmation of their safety.
As business travel resumes in the coming months, organisations will need to carefully examine their existing corporate travel security policy and address any loopholes. Natural disasters, terrorism, and crime have been at the top of risk assessments for a long time, but with the volatile state of the pandemic in play, health and safety risks have become more intricate and difficult to predict. Healix Sentinel Tracker can be fully configured to meet each organisation's unique set of needs, enabling companies to fulfil their duty of care obligation and mitigate risks for their employees.