Sharp increase of Covid-19 cases in India causes concern
23.04.2021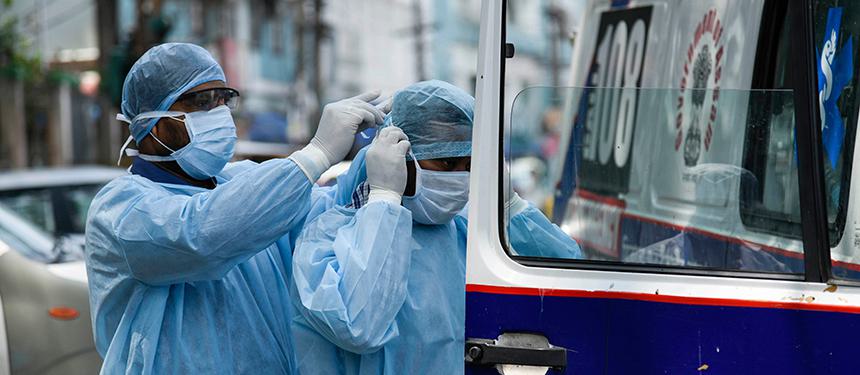 Cases surge in India with hospitals struggling to cope. We offer risk mitigation advice to clients with operations in the region.

In recent weeks India has seen a very sharp increase in COVID-19 case numbers. This second wave appears to be much more severe than the epidemic peak experienced by India in 2020, both in terms of case numbers but also the speed at which case totals are increasing. At present there is no sign of the numbers of infections levelling off.
As a result, hospitals across India are coming under severe pressure from dealing with a large number of COVID-19 hospitalisations. There is particular pressure on intensive care beds, with many hospitals reporting that they have no further capacity to treat COVID patients in intensive care. Many hospitals continue to reserve separate intensive care capacity for non-COVID patients but this too is coming under pressure as resources are diverted towards COVID care.
A particular problem is that shortages of oxygen have become commonplace and there have been instances of hospitals running out of oxygen altogether. This is of course a risk for any unwell patient, whether the illness is COVID-related or not.
It is expected that severe pressure on hospital intensive care beds will continue and possibly intensify during the coming weeks. Most patients with COVID who require intensive care have already been ill with the disease for 10 to 14 days so the cases being diagnosed today will be contributing to pressure in intensive care resources a fortnight from now. Furthermore, COVID-related intensive care admissions are often very lengthy so demand for this type of hospital care will continue to build incrementally as India goes through this epidemic peak.
It is still possible to transfer patients out of India by air ambulance if necessary. However response times are slower than they were prior to the pandemic because of the existence of numerous COVID-related obstacles which must be negotiated.
Covid-19 in India: Risk mitigation advice
At this time all proposed travel to India should be carefully risk-assessed. Anyone with health conditions which predispose them to severe COVID, or anyone with other health conditions which may require emergency treatment while in India, will represent an elevated risk. Organisations might consider the use of a risk assessment tool, such as COVID Travel Safe, as part of the pre-travel approval process. Our unique methodology measures a range of sub-risk factors for instant evaluation of whether travel is safe to carry out or not, based on individual employee travel plans. The tool is updated regularly to follow the pandemic's evolution.
COVID-19 vaccination is very effective at reducing the likelihood of an individual developing severe COVID. Vaccination is currently available to all those aged over 45 in India. The two vaccines currently in use are Covishield and Covaxin (each vaccination centre offers one or the other, not both). Healix's preference is to use Covishield (also known as AstraZeneca) as, unlike Covaxin, this vaccine has been approved by World Health Organisation Stringent Regulatory Authorities.
At this time more than any other, travellers and expatriates in India must be conscientious about basic public health measures to prevent viral transmission. These are the familiar rules on hand washing, wearing face masks and social distancing. As ever, it is essential that anyone with symptoms, or anyone who has been in contact with a COVID case, observes strict self-isolation. Client's should contact call Healix immediately if they feel unwell for guidance.