Lockdowns in Shanghai continue to cause disruption
19.04.2022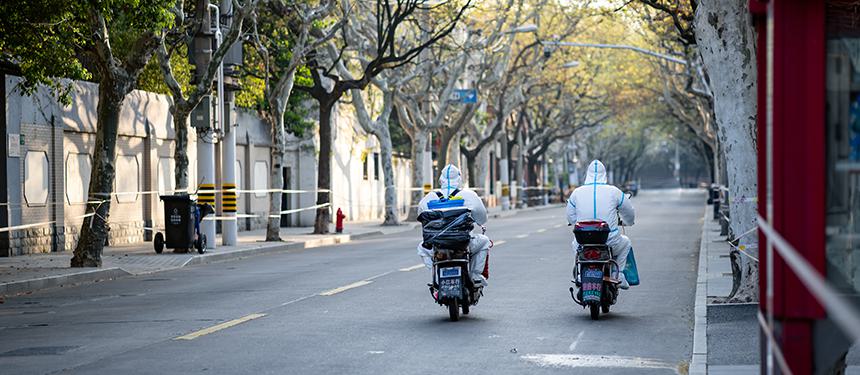 China races to keep the COVID-19 outbreak under control in Shanghai, causing major disruption to daily life for millions of residents and businesses.

What's happening in Shanghai?
Amid China's worst outbreak since Wuhan at the start of the pandemic, Shanghai has been in one of the world's strictest lockdowns for the last three weeks. Millions of residents are required to undergo vigorous testing while abiding by severe movement restrictions as tens of thousands of cases are reported each day. As the country races to keep the COVID-19 outbreak under control, committing to its 'Zero COVID' policy, there has been major disruption to daily life, and restrictions have been met with widespread frustration. Residents were originally told that the lockdown would last four days, but city authorities have extended it indefinitely.
Shanghai's quarantine protocols have come under fire. When the initial lockdown was imposed with immediate effect on 27th March, people were effectively quarantined at the exact location they were in – restaurants, malls, and offices – and were not allowed to travel home. Asymptomatic cases were also required to quarantine in government facilities, which have been testing the limits of Shanghai's quarantine centres. Medical staff are transported to quarantine facilities after their shifts and not allowed to return home. COVID-19 positive children are being separated away from their non-positive parents. Elderly patients are also quarantined separately. Reports also suggest that local authorities have culled pets who tested positive or who are left alone when their owners were sent to quarantine.
While local authorities have increased the number of hospitals, beds and isolation facilities, existing medical institutions have suspended outpatient services and non-urgent surgeries. Reports indicate that the local healthcare system is under pressure, with overwhelmed bed capacities, long queues and waiting times, and patients being turned away. More than 26 hospitals in Shanghai were ordered to enforce the 'Zero COVID' policy and prioritise COVID-19 containment. Around 20,000 testing locations and 62 temporary transit isolation management points were set up, with hotels, stadiums, exhibition and training centres converted into isolation centres. However, reports indicate poor patient management and squalid conditions in makeshift isolation centres. In addition to deploying 2,000 military personnel to Shanghai to enforce lockdowns, the central government has deployed 38,000 medical staff and 2.38 million COVID-19 testing personnel countrywide to Shanghai.
While authorities have promised to lift its measures in areas with zero cases, lockdown enforcement has been arbitrary and at little to no notice. The prolonged ban on movement outside of their residences have prompted residents to resort to group-buying their groceries, after the government's promise of food deliveries and other basic necessities were undelivered. The lockdown and movement controls have affected supply chains, resulting in staples like fresh vegetables and water becoming luxuries and spurring stock-piling practices countrywide. E-commerce have reportedly ran low on products occasionally. In certain residential districts, local authorities have informally cracked down on group-buying and price-gouging practices, and some residents have reportedly started a barter system exchanging small quantities of commodities.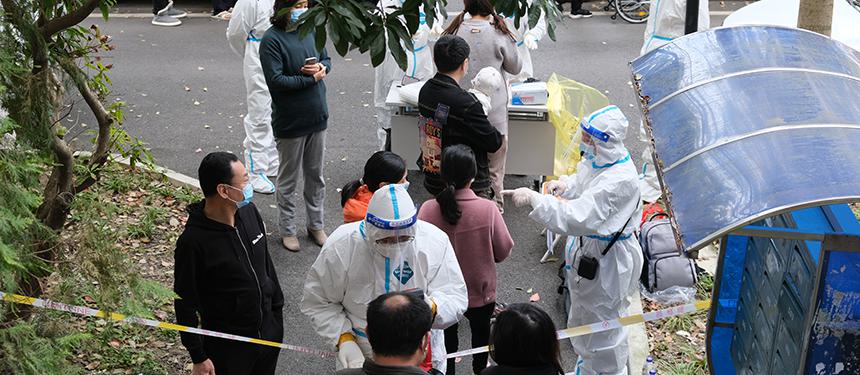 When will the Shanghai lockdowns end?
On 11th April, the government shifted to a three-tier (sealed areas, controlled areas and precautionary areas) containment reclassification system:
Those in sealed areas must undergo a seven-day strict lockdown followed by a seven-day home isolation with a ban on movement and gatherings. Movement restrictions will be eased only if all persons in the district have tested negative on the 13th day from the imposition of the order.
In controlled areas, a seven-day home isolation is imposed with a ban on gatherings. One member from each household may be allowed to obtain food and supplies at an allocated time slot. Measures may ease if all persons test negative on the 6th day of the order.
In precautionary areas, movement is allowed within this region but regions may be sealed for containment if a positive case surfaces.
On 11th April, the government imposed 7,624 sealed areas, 2,460 controlled areas and 7,565 precautionary areas in Shanghai. Despite the promise that measures may ease, the new classification also suggest that lockdowns may be prolonged with no end in sight as long as a district reports one positive COVID-19 case. On 13th April, the Shanghai Public Security Bureau announced legal repercussions for residents who violate official health safety directives, including movement restrictions, mandatory testing and quarantine, dissemination of public misinformation and the illegal sales of forged test and medial certificates and movement permits.
China is unlikely to change its stance in the short-term, despite academics acknowledging the shortcomings of a 'Zero COVID' policy.  While the government has purportedly eased restrictions by introducing a three-tier lockdown classification, precedent suggests that local authorities may enforce a strict lockdown or arbitrary movement measures at short notice.
Tips for travellers in Shanghai
At the time of publication, domestic travel into Shanghai requires a negative nucleic acid test result taken within 48 hours before arrival with four post-arrival tests taken on days one, four, seven and 14 of arrival. Those departing from Shanghai must additionally produce a negative antigen test result taken within 24 hours before departure. International arrivals are subject to a 14 days centralised isolation followed by a seven-day health monitoring. Travellers should consider the following advice:
Travellers should ensure that they have their identification documents with them at all times and abide by local directives where possible. Travellers should ensure that they have an adequate supply of personal protective equipment such as masks and sanitiser for use when out and about.
Ensure that accommodation has been secured for an adequate number of days in the event of a sudden lockdown or extended movement measures. It is also good practice to stock up on bottled water and non-perishable food items.
Those in Shanghai should download WeChat and follow 上海本地宝 or follow the Shanghai Municipal Health Commission to stay updated with key developments and advisories. Follow embassy bulletins and advisories and register with the relevant embassies for updates.
Ensure that contingency travel plans are made in anticipation of possible flight cancellations, movement restrictions and the temporary suspension of transport services.