The rise of far-right terrorism in Germany
13.05.2020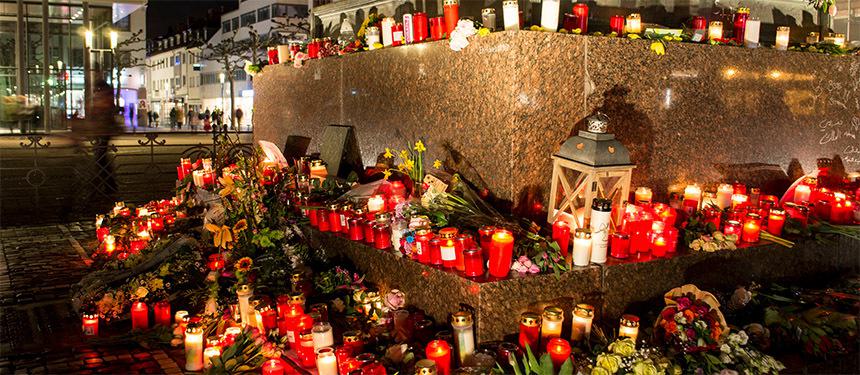 In the wake of the Hanau far-right terrorist attack earlier this year, Healix further explores one of our top five 'special risks' for companies to consider in 2020.

On the evening of 19th February, eleven people were killed in two separate shootings in Hanau, near Frankfurt in western Germany. The gunman, later named as Tobias Rathjen, targeted two shisha bars before returning to his apartment, killing his mother and then committing suicide. The police later confirmed that the attack was motivated by far-right beliefs, after Rathjen left a 24-page manifesto calling for the extermination of people from the Middle East, Asia and North Africa. He claimed the US was under the 'control of invisible secret societies', and labelled himself an 'incel' (an involuntary celibate). Rathjen was not known to the security services prior to his attack. At least nine of the victims were from immigrant backgrounds.
While terrorist attacks remain uncommon, the Hanau attack illustrates the growing presence of the far-right in Germany. In June 2016, nine people were shot dead in Munich in a racially motivated attack. In June 2019, Walter Lübcke, the President of the district Kassel and member of the Christian Democratic Union (CDU) was shot dead outside his home in Wolfhagen. It later emerged that the suspect, Stephan Ernst, was a member of the neo-Nazi organisation Combat 18 (C18), and Lübcke's pro-refugee stance was a driver behind the attack. In October 2019, two people were shot dead at a synagogue marking the holy day of Yom Kippur in Halle. The attacker, Stephan Balliet took inspiration from the March 2019 attack in Christchurch, New Zealand and the August 2019 attack in El Paso, United States, which killed 51 and 22 people respectively.
Far-right groups have also successfully infiltrated German law enforcement; a 2019 investigation by the state government of Mecklenburg-Vorpommern found eight of twelve members of a German elite police commando unit were linked to a so-called 'prepper' network (a far-right network that believes a collapse of society and subsequent race war are imminent). One police raid on a commando linked to this network found a submachine gun, over 55,000 rounds of ammunition and several explosives.
What is driving the rising far-right presence?
One factor is the growing proliferation of far-right discourse in German politics. Chancellor Angela Merkel's decision to take in over 500,000 migrants in 2015 proved to be deeply controversial, resulting in nationwide anti-migrant protests and renewed electoral impetus for the far-right Alternative for Germany (AFD), culminating in the party coming third in federal elections in 2017. This has helped to mainstream and amplify far-right themes such as Islamophobia and the campaign against so-called 'cultural Marxism'. In January, a sub-sect of the AFD known as Der Flügel (the wing) was placed under surveillance by domestic intelligence agencies. It was also later revealed that Stephan Ernst, the killer of Walter Lübcke, was a campaign volunteer for AFD. Street groups such as Patriotic Europeans Against the Islamisation of The Occident (Pegida) have since gained momentum, holding occasional but often well-attended rallies; one Pegida demonstration in January 2015 in Dresden attracted 25,000 supporters. A combination of street groups and political parties helps the far-right to shape Germany's wider political milieu in a way which other extremist groups, such as jihadist movements, do not. While these groups may be non-violent, they can serve as an ideological incubator for individuals who may later seek to apply these extremist beliefs violently.
The second factor driving Germany's far-right is the increasing trans-nationalisation of the global far-right, assisted by the increased interconnectivity that the internet and social media forums provide. Platforms such as Stormfront, Iron March and 8Chan help like-minded individuals to exchange ideas and narratives, creating a virtual, de-territorialised community and countercultural movement bound by shared narratives and identities. In such forums, extreme opinions are disproportionately influential and serve as markers of authenticity. Intense in-group loyalty dictates that none of the members wish to appear as 'sell-outs', resulting in a high level of ideological cohesion within the in-group. These platforms also encourage the so-called 'disinhibition effect', where individuals behave in ways that they would not in real life. This may encourage them to then bridge the gap between virtual and real-life identities. The dominant belief that unites the far-right worldwide is that violence must be used as a pre-emptive act of resistance against the so-called 'creeping Islamification' of the West, in order to fulfil the so-called '14 Words' (We must secure the existence of our people and a future for white children). This encourages the impending 'Racial Holy War', known as RaHoWa in online forums.
The '14 Words' and belief in RaHoWa serves as a global rallying call for the far-right movement; Dylan Roof, responsible for the June 2015 Charleston church attack in the US, Robert Bowers, responsible for the October 2018 Pittsburgh synagogue attack in the US and Brenton Tarrant, responsible for the Christchurch attack are among those who made references to the '14 Words'. Online social spaces are notoriously difficult to police, and far-right activists have demonstrated a high level of ability in avoiding detection and disruption by regulators. This has allowed manifestos published by attackers such as Anders Breivik (the 2011 Oslo and Utoya attacker), Brenton Tarrant and Patrick Crusius (the August 2019 El Paso, Texas gunman) to become easily accessible to far-right extremist supporters and serve as ideological inspiration for further terror attacks.
A shift in focus
While jihadism occupied the focus of policymakers, security services and the general public alike in previous years, far-right terrorism now poses a greater challenge to the German security services, and is being increasingly recognised as such by the authorities. The Global Terrorism Index's 2020 study found far-right attacks across Western countries have increased by 320% in the past five years, accounting for 17.2% of total incidents in the West, compared to 6.8% for Islamist attacks. In Germany, no Islamist attack has been committed since December 2016, when twelve people were killed at a Christmas market in Berlin. German authorities estimate there are over 12,000 potentially violent right-wing extremists; as a consequence of law enforcement infiltration, the access to resources for far-right groups is also higher than their jihadist counterparts, evidenced by a series of nationwide raids in January and March which seized extensive supplies of weapons, ammunition and explosives. In 2019, over 500 active cases of far-right extremism within the German military were investigated, an increase of 30% in comparison with 2018. In June 2019, it emerged that a far-right group known as Nordkreuz had stockpiled over 200 body bags and using police databases, the group compiled a list of prominent politicians to target, with this list containing personal information such as addresses. Growing concerns over this issue prompted Interior Minister Horst Seehofer to announce plans to set up a specialist unit to investigate far-right extremists in law enforcement agencies.
Combined with a wider backlash against globalisation and the current anxiety towards immigration regarding the novel coronavirus (COVID-19) outbreak, the German far-right is set to remain a considerable headache for security services in the years to come. It can no longer be understood solely as the discontent of the marginalised working class, but as an increasingly sophisticated and organised movement whose narratives transcend borders. Further reminders of this growing presence are unfortunately likely.