Is vaccine protection fading? Boosters and third doses
20.09.2021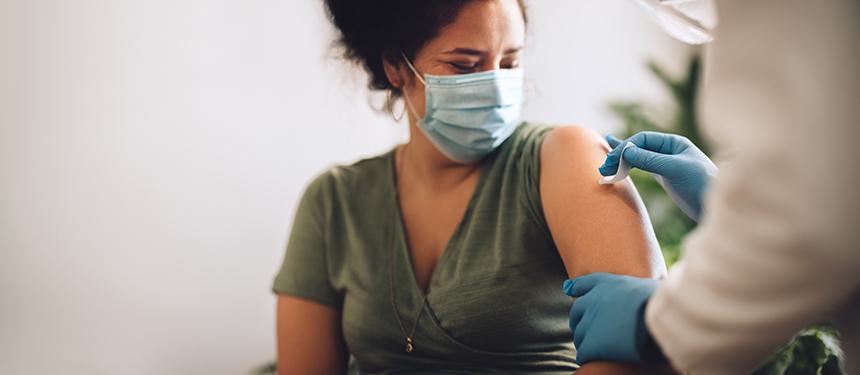 Governments, public health officials and regulators are currently grappling with the question of how best to protect their populations from COVID-19. This time the focus of the debate is around 'booster' doses or what many scientists prefer to call 'third doses'. The difference in semantics revolves around whether the COVID vaccines should be thought of as a three-dose series or as a vaccination strategy that will rely on annual boosters, perhaps, as with the flu vaccine.

Is vaccine protection fading?
The emergence of the Alpha variant and then the even more transmissible Delta variant has put us on the back-foot and officials are starting to question the effectiveness of the vaccine and if protection is fading.
The early vaccine adopters have now been fully vaccinated for about eight months. They generally comprise a group of the most vulnerable members of society, whether by virtue of their age, medical conditions that reduce their immunity or the fact that they are on the front-line and most likely to be exposed to the virus. The former two groups are known to have a compromised response to vaccines in general and this seems to be the case with COVID vaccines too.
It would appear that vaccine protection is fading or 'waning'. However, there is disagreement on the degree of waning as well as the effects of waning.
One of the missing tools in the vaccinologists' armoury is a measure with which to assess immune status - this is referred to as a 'correlate of protection'. In the simplest terms this could be something as simple as the antibody level against the coronavirus - however, the actual measure has not been identified yet and is unlikely to be anything as simple as this. The human immune system consists of a complex array of defence mechanisms that comprises not only of antibodies, but also of memory cells that are primed to recognise an invading virus, for example, and can trigger the rapid production of neutralising antibodies. There are also killer T-cells that can destroy cells that are infected with the virus and thus prevent further replication of the virus.
To state that immunity is waning simply because the vaccines are no longer as effective ignores the fact that there may be other confounding variables in play. We are facing a very different threat with the Delta variant, and at the same time non-pharmaceutical measures have been relaxed in many countries. The data seem to confirm that protection against severe disease and hospitalisation is holding strong, but that prevention of mild or asymptomatic infection has fallen, though there is no question that the vaccine still offers some protection against Delta.
Which countries are offering boosters?
There has been much confusion generated by the pronouncements of the US administration about booster doses. Initially it was said that boosters would be given once an individual has been fully immunised for 8 months, then it was lowered to 6 months. At first it was said that boosters would be available for everyone and more recently it was said that the initial focus would be the vulnerable population, whether through age or immunocompromised conditions. It has also been pointed out that the Food and Drug Administration (FDA), the US drug regulators, have not yet given official approval for booster shots and that this decision is a few weeks away. Similarly, the CDC's vaccine panel is still waiting for more data to determine the best booster dose approach. One of the key messages that has come out of this pandemic is that information should be clear and science-driven, and the US approach looks to be clumsy at best, with politics getting ahead of the science.
Furthermore, the need for boosters is still being debated. Advocates see them as a potential tool for controlling the coronavirus surge spurred by the Delta strain. Short-term data from Israel, a rich source of Pfizer/BioNtech studies, suggesting the efficacy of initial vaccinations wanes in a matter of months has been cited by White House officials in making the case to act fast. In reality the rollout is already in full swing in the US, albeit unofficially. The CDC have published data that over a million Americans have already received an additional jab in the last month by crossing borders or claiming to have mislaid their vaccination cards.
In the UK and the European Union, health authorities have advised that there is no urgent need for boosters except for the most vulnerable, though some countries have decided to offer them. In fact, though the UK regulator, the MHRA, has given an emergency use authorisation for Pfizer and AstraZeneca booster jabs, they have left the decision of exactly who should be eligible to the Joint Committee on Vaccination and Immunisation (JCVI). Italy's medicines agency, the AIFA, has also given the go ahead to the administration of COVID-19 booster shots, beginning with 500,000 immunosuppressed people receiving a third dose of either the Pfizer or Moderna vaccine. The programme will then be expanded to include 4.2 million older people and care home residents as well as healthcare workers. Spain's healthcare regulator has recently approved a third dose of COVID-19 vaccines for people with severely compromised immune systems who are likely to have weaker protection from the conventional two-dose inoculation schemes. Meanwhile, Bahrain has authorised the use of a booster dose of the Sputnik V COVID-19 vaccine, the first time the Russian shot has been approved for a third dose. This trend looks set to continue across the world.
"No one is safe until everyone is safe"
The WHO remains concerned about scarce vaccine supplies for low and middle income countries, and, though they have conceded the case for the most vulnerable, they are strongly opposed to the drive for universal boosters. The organisation called last month for a moratorium on COVID-19 vaccine booster shots until the end of September to address the drastic inequity in dose distribution between rich and poor nations. Mike Ryan, the executive director of the WHO's Health Emergencies Programme, in typical combative style, equated universal boosters as akin to "handing out extra life jackets to people who already have life jackets while we're leaving other people to drown without a single life jacket".
Moderna has recently filed initial data with the FDA for clearance of a booster of its COVID-19 shot. They propose using a reduced dose of 50 micrograms - that is half the dose used in the existing vaccine. This dose raised antibody levels against the Delta variant by more than 40-fold in a clinical trial. Pfizer/BioNTech filed initial booster data with the agency last month.
Many questions about booster doses remain:
how is immunity affected by a longer spacing between the first and second doses?
will a third dose in immunocompetent people actually extend immunity?
how long would the immunity last?
should we simply accept that this is actually a three dose vaccine?
What remains indisputable, however, is that the focus should be on getting as many people fully vaccinated as possible instead of giving boosters to healthy people who are already immunised. We live in an inequitable world and COVID will not change that overnight. However, while there remains a finite supply of vaccines, the marginal gains of a universal booster rollout in vaccine-rich countries while billions of people still await a first dose, will continue to have severe moral implications and threaten to prolong the pandemic.