What's happening: Escalation of hostilities in Israel
09.10.2023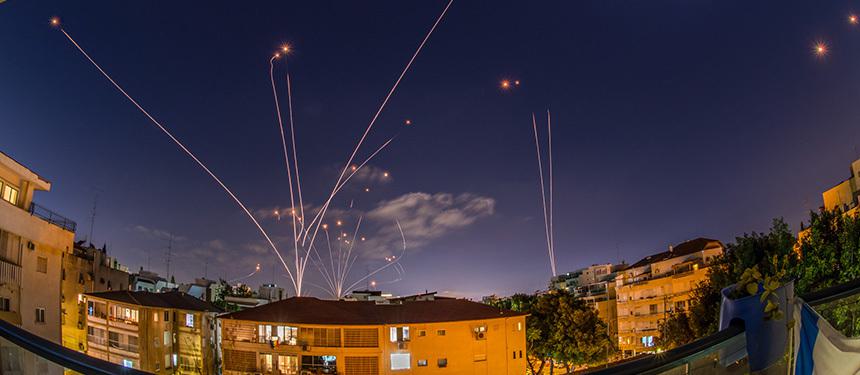 Israel is currently facing a significant security crisis as it deals with a multi-pronged attack launched by Hamas militants in the Gaza Strip. This attack, known as operation 'Al-Aqsa Flood,' began on 7th October, and involved a combination of rocket fire and ground infiltration in 22 different areas, primarily impacting southern Israel. In the initial barrage, up to 2,000 rockets were fired, causing widespread damage and casualties.
As of 9th October, Israeli authorities have reported over 700 fatalities and 2,100 injuries, including members of the security forces. The Palestinian Ministry of Health has reported at least 413 Palestinian fatalities and 2,300 injuries during reprisal air strikes on Gaza, which may include members of Hamas. Additionally, reports indicate that Hamas militants have kidnapped at least 100 civilians, including women, children and foreign workers.
In response to the attacks, Israel has issued a formal declaration of war and declared a national state of civil emergency. The country is currently mobilising up to 300,000 military reservists. The Israeli Defence Forces (IDF) have launched numerous airstrikes in Gaza, targeting key infrastructure used by Hamas, including tunnels, buildings, and banks suspected of being used for funding.
The IDF is focused on clearing southern areas of any remaining Hamas militant presence. This has led to clashes and incidents, including the killing of suspected militants near Ashdod. There have been reports of cross-border incidents with Lebanon, with militants infiltrating Israel from southern Lebanon on 9th October, but Hezbollah has not meaningfully entered the conflict.
Foreign nationals in the region face elevated risks. Evacuations are ongoing, with multiple settlements near the Gaza border ordered to evacuate. Sderot remains a hotspot of violence, and missiles have targeted areas like Ashkelon and Tel Aviv. Ben Gurion International Airport (TLV) has also been targeted by missiles, with the Iron Dome missile defence system intercepting the vast majority of rocket fire.
Operational developments
The situation remains highly fluid and dangerous, with ongoing military operations and violence. Many international airlines have temporarily suspended flight services to Tel Aviv owing to safety concerns, causing travel disruption, although TLV airport remains operational. Evacuations of foreign nationals are ongoing.
A ceasefire in the short-term is unlikely
The escalation represents a significant deterioration in hostilities. Hamas has shown a high level of sophistication in its attacks, posing an extreme threat to Israel. A ceasefire in the short term appears unlikely, and the situation is expected to escalate further, with the expectation of IDF ground operations in Gaza.
IDF security operations will continue in southern Israel and Gaza, which pose incidental risks to bystanders. Meanwhile, security risks in northern Israel near the Lebanese border will also remain heightened due to the risk of infiltration of militants from Lebanon.
Ben Gurion Airport is likely to remain operational but with limited flight availability due to security concerns. Enhanced security measures and restrictions are expected at border points.
Advice
Shelter-in-place: Consider staying indoors, especially in areas affected by rocket fire and IDF operations, for at least the next 24-48 hours.
Abide by official directives: Follow instructions issued by Israeli authorities, including state of emergency measures and curfews.
Coordinate ground moves: If you need to travel, ensure coordination with professional security support until further notice.
Avoid the Gaza border: Defer travel to areas within 10 miles/16km of the Gaza border due to heightened risks.
Stay informed: Monitor the situation on the ground and real-time alerts for missile attacks using the Red Alert app.
Communication plan: Ensure that you have a communication plan in place before travelling and access to multiple means of communication.
Monitor official Israeli advice: Check for updates and guidance from Israeli authorities at www.idf.il/en/minisites/regional-commands/home-front-command/how-to-act-during-an-alert/.
Exercise caution globally: Be aware of potential protests and incidents targeting Israeli interests worldwide.
Prepare for travel disruptions: Be prepared for possible flight cancellations and travel delays and consider alternative routes if needed.