Europe on track to experience its worst wildfire season
23.08.2022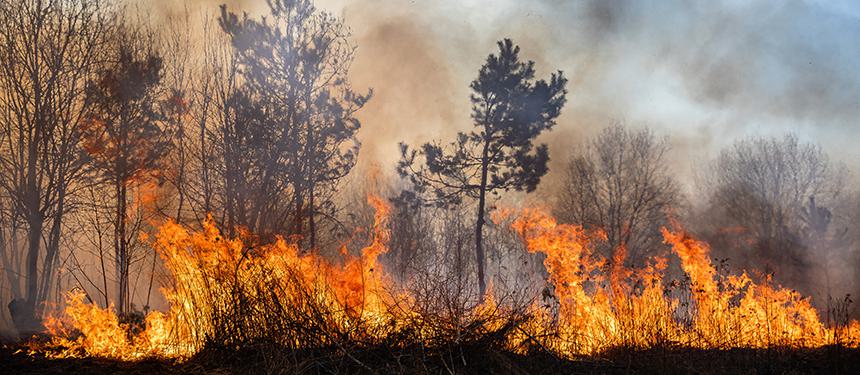 What's happening: wildfires in Europe
Throughout the summer of 2022, Europe has witnessed some of its most destructive and intense wildfires on record. EU data suggests that almost 750,000 hectares of land within Europe has been burnt by wildfires since 1st January, as the continent is on course to experience its most severe wildfire season since records began in 2006.
So far, Spain has seen an estimated 275,000 hectares of land impacted by wildfires, while Romania and Portugal have also been severely hit. In France, according to the European Forest Fire Information System, the amount of woodland consumed by fire in 2022 is six times the full-year average between 2006 and 2021, while in Greece, early heatwaves carried hot temperatures eastwards and several wildfires forced evacuations to settlements on the island of Lesbos and areas of Athens.
The most severe wildfire season in Europe was last recorded in 2017. However, it was not until October that the most destructive fires took place. In 2022, the amount of land burned by wildfires for the same period is 56% higher than in 2017, with fears that over one million hectares of land could be lost by the end of this season.
Wildfires have a number of negative impacts, which include operational disruption such as road closures, power outages and evacuations in the worst-affected areas. Further effects include increased carbon emissions and reduced air quality within the surrounding area.  While fire trends within Europe are typically influenced heavily by the Mediterranean, data since 2010 suggest that the incidence of wildfires is becoming increasingly common in central and northern European countries.
Why are wildfires in Europe so extreme in 2022?
Severe drought across much of Europe together with multiple heatwaves has provided optimum conditions for the spread of wildfires.
An estimated 47% of land within the EU was classified under a 'warning' category for drought conditions by the end of July, with a further 17% under a 'severe' status. France recorded its driest July for over 60 years with just 9.7 millimetres (0.38 inches) of rainfall, whilst over 40% of the population in Italy has been exposed to drought conditions in 2022, with 22% of people experiencing severe or extreme long-term drought. Dry forecasts are set to continue throughout August and into September, in which case the current impacts on agriculture, energy and water supply are set to continue.
Record temperatures throughout much of Europe in 2022 drastically increased the risk of wildfires, together with pre-existing drought conditions in many areas. Portugal experienced record temperatures, reaching as high as 47 degrees Celsius in northern areas. This extreme heat played a significant role in the wildfires which burned 17,000 hectares of land in the Serra da Estrela national park. Meanwhile, extreme temperatures in Slovenia were exacerbated by high winds, ultimately fuelling the worst wildfires that the country has witnessed in its modern history.
Extended dry periods and extreme temperatures place additional stress on vegetation throughout Europe's forested areas, increasing susceptibility to wildfires which become increasingly difficult to contain when vegetation is especially dry, facilitating the spread of fires at a more rapid rate.
Climate change and future wildfire trends
The increased frequency of weather conditions linked to climate change - extreme temperatures, drought and high winds - make wildfires likely to become an increasingly common problem for Europe in the future.
Experts are cautious when attributing the impact of climate change to Europe's wildfire problem, suggesting that human interference has a significant hand in over-stretching water resources, for example. A large proportion of Europe's wildfires can be attributed to direct human activity, specifically farming or more careless acts such as discarded cigarettes and in some cases, arson. After the death of 100 people during Portugal's 2017 wildfires, authorities suggested that an estimated 62% of fire outbreaks stemmed from farming activities. Around 900,000 hectares of land – a quarter of the country's forests – is covered by eucalyptus trees, a non-native, highly flammable tree used for the paper industry which has exacerbated wildfires throughout 2022.
Nonetheless, the growing impact of climate change and global warming cannot be ignored. An increase in droughts across much of Europe has been highlighted as one of the key impacts of global warming, which, by extension, has played a significant role in Europe's 2022 wildfire season being both so widespread and so destructive, particularly in parts of the Mediterranean and France's Gironde region. According to the UN, the Mediterranean region is warming 20% faster compared to the global average, suggesting that 2022 is indicative of the area becoming increasingly exposed to the risk of wildfires.
As Europe continues to experience rising temperatures, national governments are reporting the wildfire season to both be starting earlier and finishing later compared to historical trends, in turn impacting both the preparedness of local responses and the economic impact throughout the wildfire season. Meanwhile, growing instances of wildfires impacting parts of central Europe, including Germany, Austria and the Netherlands, suggest that wildfires are likely to impact a wider area in the future.
Advice for organisations
Monitor weather warnings and remain mindful of Europe becoming more susceptible to wildfires beginning earlier and finishing later than historical trends would suggest.
Conduct a wildfire risk assessment to assess the risk to employees and adopt suitable mitigation measures. Encourage staff to maintain a grab bag of essential supplies to be used in the event of an emergency.
Remind and train staff in emergency response protocols.
Download the Healix Travel Oracle app and utilise the 'Watch Country' function to receive notifications on the latest security incidents in-country, including wildfire warnings. The 'Mayday' functions can also be triggered to provide the GPS location of an employee and provide additional information including audio and pictures from the employee's phone.