Healix named 'International Healthcare & Risk Management Provider of the Year'
13.11.2018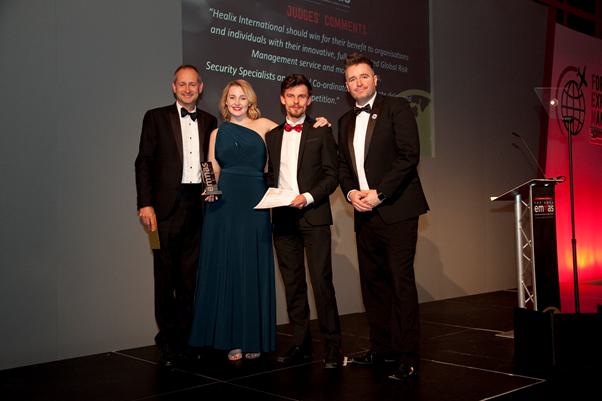 Healix are delighted to have won the 'International Healthcare & Risk Management Provider of the Year' Award at the FEM Expatriate Management & Mobility Awards (EMMAs) in London. With a clear focus on delivering solutions underpinned by hands-on medical and security experts, the win reflects our fully integrated service model with both medical and security staff working alongside each other.
The judges commented that "Healix International should win for their benefit to organisations and individuals with their innovative, fully integrated Global Risk Management service and model of Nurses, Security Specialists and Travel Co-ordinators to eliminate delay and repetition."
Commenting on the win, Mike Webb, CEO, Healix International said, "As international travel is fundamental to commercial success in today's global economy, it is crucial that employers can implement risk management strategies that put employee wellbeing front and centre.  Our focus is to provide a service that combines the best possible insight for risk mitigation, with hands-on expertise when support is required.  Having all our teams in-house further ensures that medical and security issues can be addressed efficiently and effectively.
"We are delighted that our service and expertise has been acknowledged by the EMMAs. Receiving the International Healthcare & Risk Management Provider of the Year Award demonstrates that we are at the forefront of the employee risk management sector, with a commitment to innovation as well as a sustained focus on the highest standards of care and customer service."
Our entry demonstrated our global footprint and expertise in delivering travel risk management and international medical, security and travel assistance services. Working on behalf of multinational corporations, governments, NGOs and insurers to look after the welfare of expatriates, business travellers, offshore workers and local nationals in every country of the world, we help employers fulfil their duty of care towards staff travelling and working abroad.
Whilst offering the flexibility to mix and match any of our Travel Risk Management services to clients' particular requirements, we can also deliver a complete, integrated, robust and consistent travel risk management programme, providing an exceptional level of care for employees and an effective solution for employers.